WASHINGTON, D.C. — Today Judicial Crisis Network (JCN) launched a new $1 million dollar ad buy highlighting the deep ties between President Biden's first slate of judicial Nominees and left-wing dark money.
JCN says that for the Biden administration, it is now payback time for left-wing dark money groups, like Arabella Advisors, who spent hundreds of millions of dollars to elect President Biden and the Senate Democrats. These radical interest groups now expect a return on their investment and will accept nothing less than a bench of radical activist judges who, as the ad proclaims, will "transform the country, ignore the people, and shred the Constitution."
The ad buy comes on the heels of President Biden releasing his first tranche of extremist judicial nominees who will advance the political agenda of the liberal dark money groups who elected him and Senate Democrats.
The ad, "All In," will air in key states including Arizona, Georgia, West Virginia, and Washington D.C.
Statement from JCN President Carrie Severino:
"Left-wing dark money groups spent record sums electing Biden and a bare Senate majority. Now those dark money groups want that bare majority to deliver what they paid for: politicians in robes who will ignore the people and the Constitution to advance a liberal political agenda."
Ad "All In": https://www.youtube.com/watch?v=hp7tk32gk-8
Ad Script for "All In":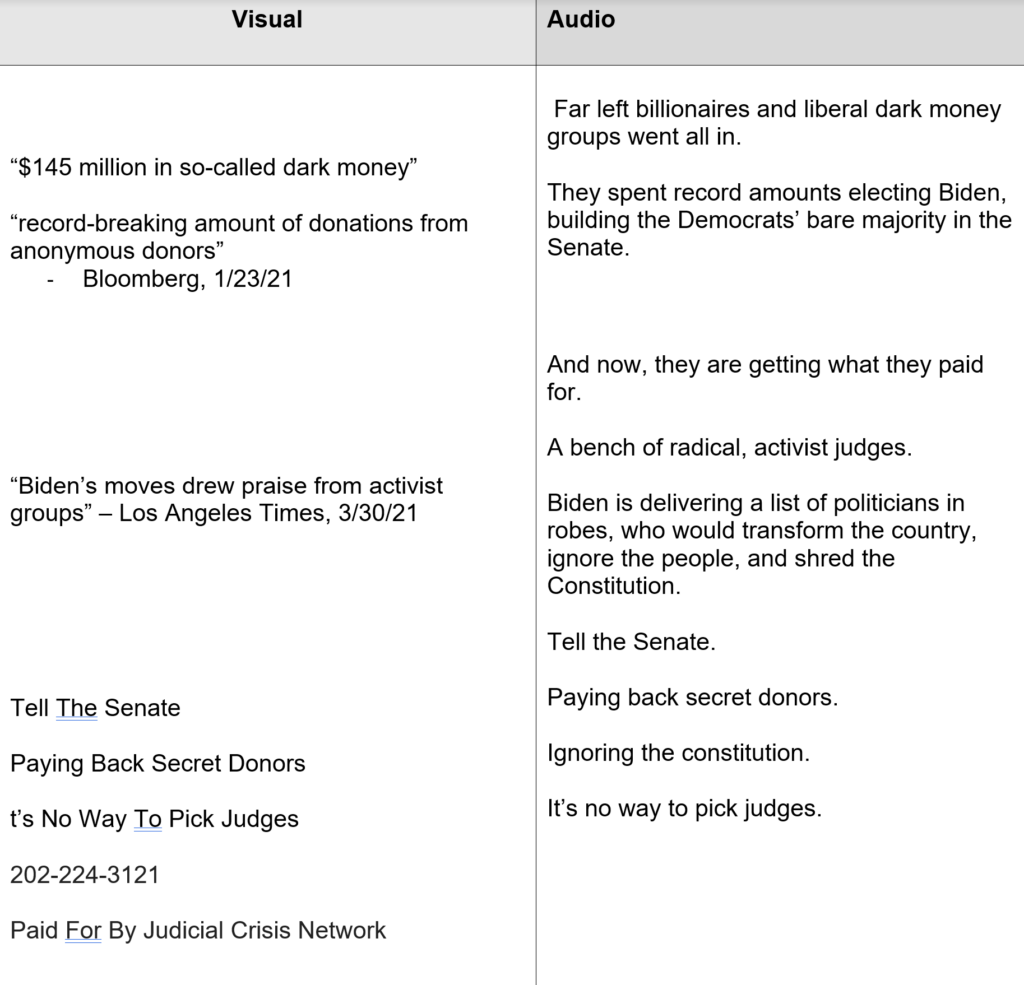 Background:
Documents reveal massive 'dark money' group boosted Democrats in 2018
https://www.politico.com/news/2019/11/19/dark-money-democrats-midterm-071725
Liberal dark-money behemoth raised nearly $140 million last year
https://www.politico.com/news/2020/11/20/liberal-dark-money-fundraising-438667
'Dark Money' Helped Pave Joe Biden's Path to the White House ($145 million)
https://www.bloombergquint.com/politics/-dark-money-helped-pave-joe-biden-s-path-to-the-white-house
 ###