Campaign Includes New $1 Million Ad Buy
WASHINGTON, D.C. — Today Judicial Crisis Network (JCN) launched a new campaign opposing Democrats' new court packing legislation. JCN's campaign will include TV, digital, grassroots activation, and coalition engagement to remind Americans that, for decades, Joe Biden opposed court packing right until he received record-breaking support from liberal dark money groups.
The campaign includes a new three-week $1 million dollar ad buy. The ad, "Terrible Mistake," will air nationally on cable and in the Washington D.C. market.
Statement from JCN President Carrie Severino:
"For decades, Joe Biden stood firmly against court packing. But now the left-wing dark money groups who elected him and Senate Democrats are demanding it, and Biden is changing his tune."
"Terrible Mistake":
https://youtu.be/a9VoznoK4U0
Ad Script for "Terrible Mistake":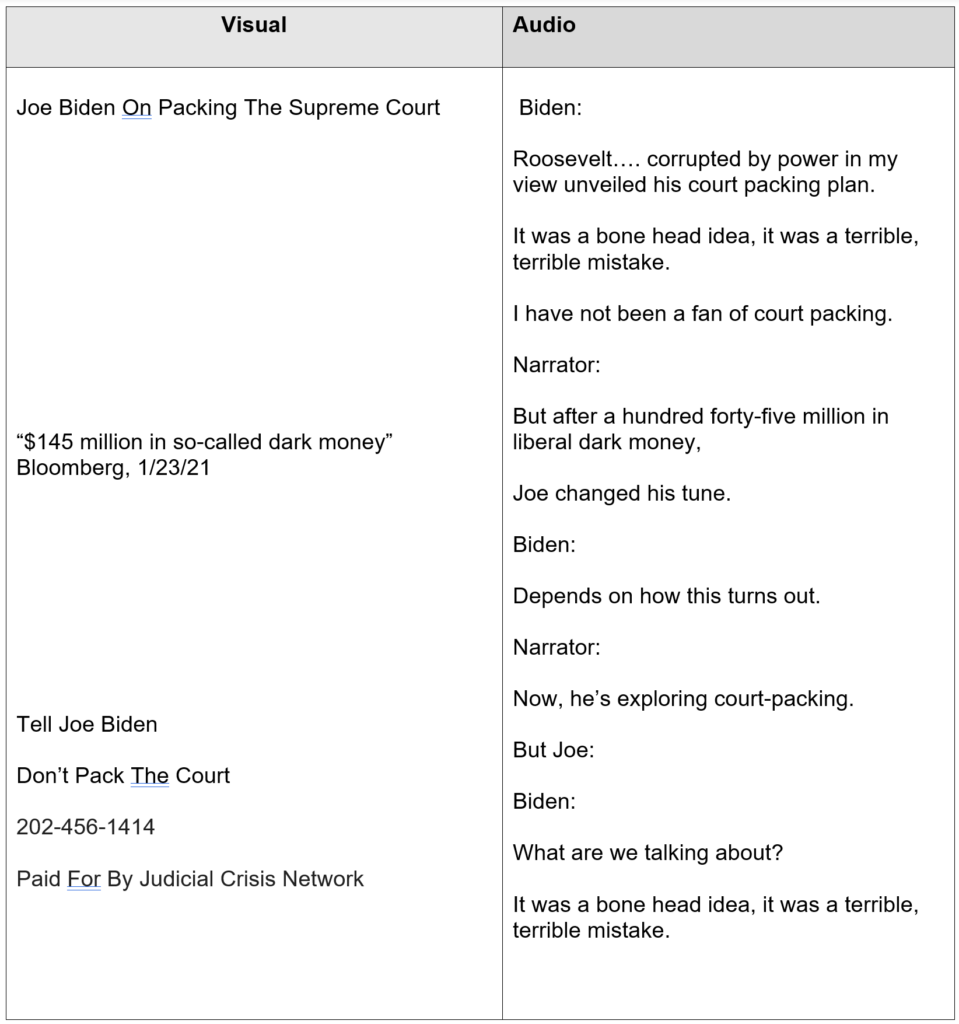 Background:
Conservatives slam ties between liberal groups, White House
https://thehill.com/homenews/administration/548092-conservatives-slam-ties-between-liberal-groups-white-house
Documents reveal massive "dark-money" group boosted Democrats in 2018
https://www.politico.com/news/2019/11/19/dark-money-democrats-midterm-071725
Liberal dark-money behemoth raised nearly $140 million last year
https://www.politico.com/news/2020/11/20/liberal-dark-money-fundraising-438667
"Dark Money" Helped Pave Joe Biden's Path to the White House ($145 million)
https://www.bloombergquint.com/politics/-dark-money-helped-pave-joe-biden-s-path-to-the-white-house
###